To provide high-quality, high-impact, highly ethical pediatric and family-centred health care, health professional training, and clinical research, focused on HIV/AIDS, tuberculosis, malaria, malnutrition, and other conditions impacting the health and well-being of children and families worldwide.
Personal integrity and accountability
client centred approach,
respectful service delivery,
compassionate and confidential services,
organisational accountability for operational excellence,
client and partner satisfaction,
employee and organisation development, financial health,
To ensure universal access to care, treatment, and support services for all HIV-infected and -affected children and their families throughout Lesotho; support prevention of new infections; and equip healthcare providers with knowledge and skills to manage common paediatric illnesses.
THE BAYLOR COLLEGE OF MEDICINE CHILDREN'S FOUNDATION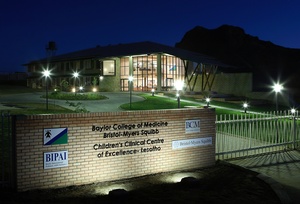 The Baylor College of Medicine Children's Foundation- Lesotho (BCMCFL) was formed in 2005 as a non-governmental organization resulting from a public-private partnership between the Baylor College of Medicine International Paediatrics AIDS Initiative (BIPAI) in Houston, Texas, USA and the Lesotho Ministry of Health. BCMCFL operates the Baylor College of Medicine – Bristol Myers Squibb Children's Clinical Center of Excellence (COE) in the capital, Maseru, and 5 Baylor College of Medicine/Texas Children's Hospital/Bristol-Myers Squibb Satellite Centers of Excellence (SCOEs) in Botha-Bothe, Leribe, Mohale's Hoek, Mokhotlong, and Qacha's Nek districts. The SCOEs particularly help decentralize paediatric HIV health care to areas outside the capital.
Our primary role is to provide comprehensive medical, social, psychosocial, and support services for HIV-infected children, adolescents, and their families nationwide. We train healthcare professionals throughout the country in the management of both paediatric HIV care and other common illnesses. In addition, we operate donor-funded projects throughout the country, including trainings and mentorship.